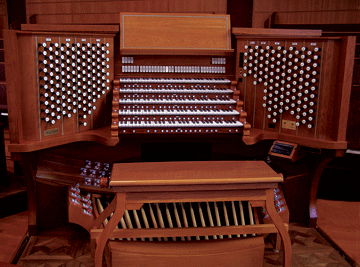 Whether mechanical or electric, all Ruffatti consoles are designed with one primary objective in mind: that of making them comfortable for the player.  We want the organist to feel 'at home', and to find everything easily understandable and accessible from the very first time he or she 'sits' the bench.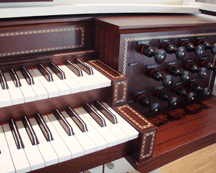 A console can be designed in many different styles, of modern or more elaborate design, to complement the building in which it is located. Fratelli Ruffatti likes to personalize each console with elegant touches, such as these beautiful wood inlays, which are unique in design, made for the mechanical console of the two manual mechanical organ at the United Congregational Church of Little Compton, Rhode Island.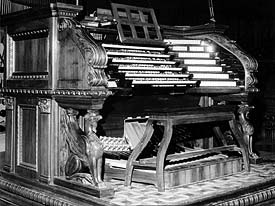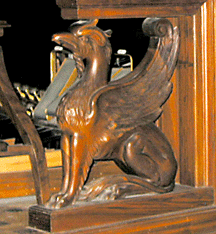 Carving is one of many specialties at Fratelli Ruffatti. From the huge console for the Basilica of Monreale, Sicily, built in 1964, and its detail (above), to a more recent hand-carved console and its detail (below), the artistry of the Ruffatti craftsmen is a testament to fine workmanship.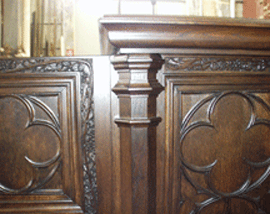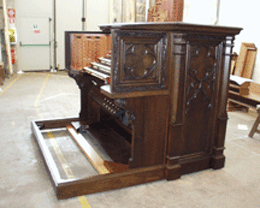 Fratelli Ruffatti selects the best console control systems available on the market, often cooperating with their producers to obtain the most advanced, user-friendly features for its instruments. Innovative operational features of the console systems offered by Ruffatti include:
• a virtually unlimited memory space to store combination action settings
• personalization of "memory sections" for each organist, with password-protected access
• recording and playback, with play-along capabilities
• multiple tuttis and crescendo sequences, which can be imported and personalized.
Reliability is guaranteed. The system 'ignores' occasional mechanical malfunctions that can 'freeze' other console systems. For example, should a piston get stuck, everything else will continue to work. Parts are standardized and easily replaceable. A complete diagnostic session can be run in minutes, a great help for easy maintenance. Also, a 'tuning assistant' can be provided, a radio-operated device through which the organ tuner can control the entire organ from inside the instrument. Only one person is therefore required for tuning and certain other maintenance issues.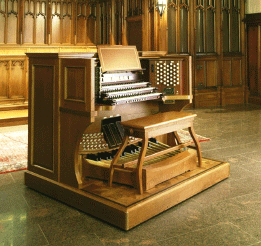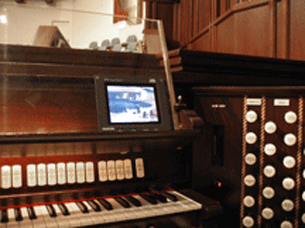 Movable consoles are usually placed on our signature wooden parquet platforms, and are connected to the instrument by a minuscule computer cable which can be plugged into different ports located in various parts of the sanctuary or concert hall. Special optional features include a small screen installed on the music rack that enables the organist to monitor various locations in the building.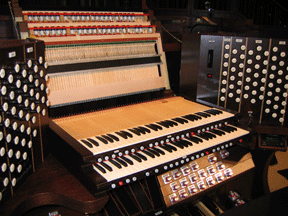 Easy access is guaranteed to all parts for maintenance. Keyboards can be lifted up one by one to access the contacts and other adjustment points. Sides can be opened to gain access to the stop drawknobs.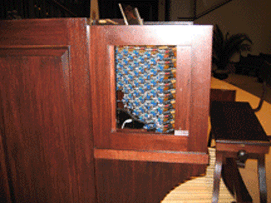 We manufacture our signature toe studs and expression shoes in-house. Our expression shoes are well-balanced and provide precise and comfortable control of expression shades. The toe studs are manufactured one by one for the utmost in precision. They also have labels that light when the toe studs are pressed.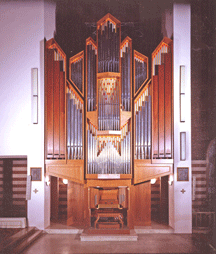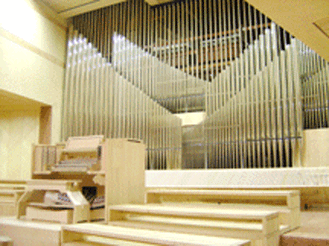 Mechanical action consoles can be of traditional design, attached to the organ case, such as in the case of our instrument at Portomaggiore, Italy, above left. They can also be detached from the pipework, thanks to a fantastic mechanical system that allows the console to be remote while preserving a light and sensitive touch at the keys. This system allows the console of our mech-anical action organ in Torino, Italy, above right, to be an incredible 18 feet away from the pipes.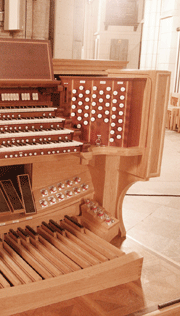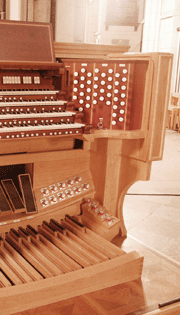 A most unique feature available on Ruffatti consoles is the adjustable key desk. Compare the two photos: the entire upper part of this massive console, manufactured for the four manual instrument at the Cathedral of Uppsala, Sweden, can be raised or lowered by more than two inches. The organist can do this by simply pushing a button. Combined with the height adjustable bench, this represents the simplest, most effective way to personalize the console dimensions so that each organist can play comfortably.